From the ground to the saddle, we want to help you achieve your equine goals. We offer support, guidance, training and inspiration. Choose from one of our video libraries or inquire about one on one coaching.
Coaching is for anyone looking for more. If you've already purchased the videos but would like help solving a specific problem or perhaps a customized program to suit your environment and horse, One-on-one coaching is available. Danette offers support and guidance for new horse owners, riders, trainers, competitors, coaches and barn owners. Lets' get through the tough stuff and on to the good stuff!
PACKAGE OPTIONS
If you are looking to better understand your equine partner, build a stronger relationship, solve or prevent behavioural problems, improve your groundwork and riding and give your horse the best YOU possible this is for you!
Not sure where to start? Let's book a discovery call!
Perfect for new horse owners, anyone needing a change, a refocus or a clear path
Starts with consult and assessment
Goal setting
Self assessment/horse assessment
Program creation/weekly exercises or plan
3 months of text/email support
Bi weekly zoom meetings
Introductory Price:
Perfect for the competitor training from home, trainer, barn or farm owner.
Starts with consult and assessment
Self assessment horse/ and or property
Goal setting
Program creation, exercises or property design
Video or in person lesson/evaluations
Discipline specific resources
Coach collabs
6 months of text/email support
Bi weekly zoom meetings
Introductory Price:
Dive into the world of horse training with our video library membership! Led by Danette herself, our collection provides essential knowledge and skills for riders of all levels. Choose between monthly or yearly subscriptions and gain unlimited access to our ever-growing library. Sign up now to unleash your full potential as a rider!
Our program captures and combines the core concepts from the English, Western and driving disciplines into one simple program. It's where rhythm, timing and feel meets pace, line and position.
Here at the farm we offer young horse development programs, problem solving, and riding lessons. We believe that there are no secrets in horse training or horsemanship, in fact, good horsemanship looks a lot like being clear, open, honest and accurate. We strongly encourage you to be part of the process and take an active role, to learn with your horse and be empowered to create a connection, a true partnership.
All of our horses, and client horses, live and train in the great outdoors. We train rain or shine but sometimes extreme situations do arise. As the Inuit say, "there is no bad weather, only bad clothes"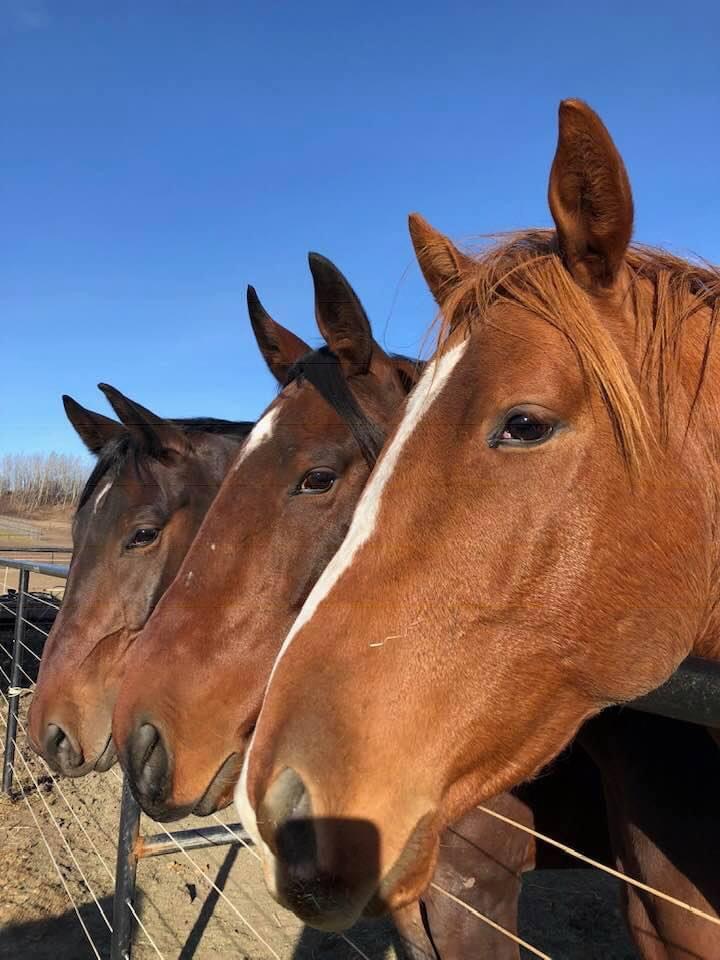 Humans honouring horses is situated on one hundred and thirty acres of prime farm land in northern Alberta. With nothing but Earth and sky for as far as the eye can see, the open design of the property ignites the soul and inspires freedom. The facility has been designed with the trainer in mind and happy horses at heart.
A Seasonal Barn With Soft Stall Mats
Heated Tack Room + Tack Stalls With IR Heaters
Laundry And Horse Wash
100x260ft Outdoor Sand Arena
200x300ft Grass Derby Field
Single Rail Pipe Fencing Throughout The Property
Large Grass Turnout Paddocks
6- 30×30 Corrals Situated Around The Barn
Automatic Waterers
One Mile Dirt Racetrack
Large Pastures
Certified Farrier On-site
Sign up for our newsletter and never miss a new video or update!